Fabrics, which are the main material of many products used in almost all living spaces, from the clothing industry to household goods, from upholstery to accessories and wall coverings, occupy an important place in our lives. Fabrics can be divided into different groups with some features.
The most basic classification is seen in natural fabric and synthetic fabric types. There are cotton, silk, wool, cashmere, linen, leather, hemp and similar fabric types that do not contain additives in the structure of natural fabrics. Man-made, artificially produced fabrics are called synthetic.
Cotton, silk, wool, cashmere, linen, acrylic, lycra, artificial leather and lace are the most preferred fabric types in the clothing industry. The most preferred types of upholstery fabrics, which have a wide range of usage areas from household goods to accessories and decors, are printed, chenille, damask, acrylic, velvet and alkantara.
Cotton fabric
Cotton fabrics are made from the natural fibers of plants. The term cotton refers to the part of the plant that is the sheath of the fluffy fibers and grows during boiling. Cottons are spun into yarn that is then woven to create a soft, absorbent and durable fabric that is used in areas such as casual wear, bed linen, upholstery and home textiles. This natural woven fabric relaxes the tissues by combining sweat with air and is one of the most suitable fabrics for garment making. When you wear a cotton outfit, you feel cool even in the heat.
Silk
It is a natural fiber produced by the silkworm as nest and cocoon material. It is known for its quality, shine and softness. It is a very durable and strong material with a shine. Silk fabric is frequently preferred for formal wear, accessories, bedding, scarves, shawls, shirts and upholstery.
Wool
It is the most durable fiber as it has a natural curl that helps it retain its shape. It is strong against wrinkles. Good quality wool is very soft and flexible. Since wool fibers do not conduct heat, they allow the body to maintain its normal temperature. It is a natural insulator, it keeps the body warm in winter and has a naturally breathing feature to keep the body cool in summer. Wool fabric is widely used in areas such as clothing, upholstery, curtains, carpets, medical equipment, apparel and bathroom equipment.
Cashmere
It is known as a type of woolen fabric made from cashmere goats. It is a natural fiber known for its softness, warmth and excellent insulation. Its fibers are very fine, shiny and delicate, almost like silk fabric to the touch. Usually, cashmere fibers are so fine that they are mixed with other types of wool, such as merino, to add extra weight. Cashmere fabric is a type of fabric that is frequently used in blankets, winter dresses, curtains and pillows.
Linen
It is a comfortable, wear-resistant, hand-washable and dry-cleanable, strong fabric. It has a breathable and absorbent structure. It is also light, allowing air to pass through and moderates body temperature. Linen is a common material used for shirts, pants, towels, tablecloths and sheets.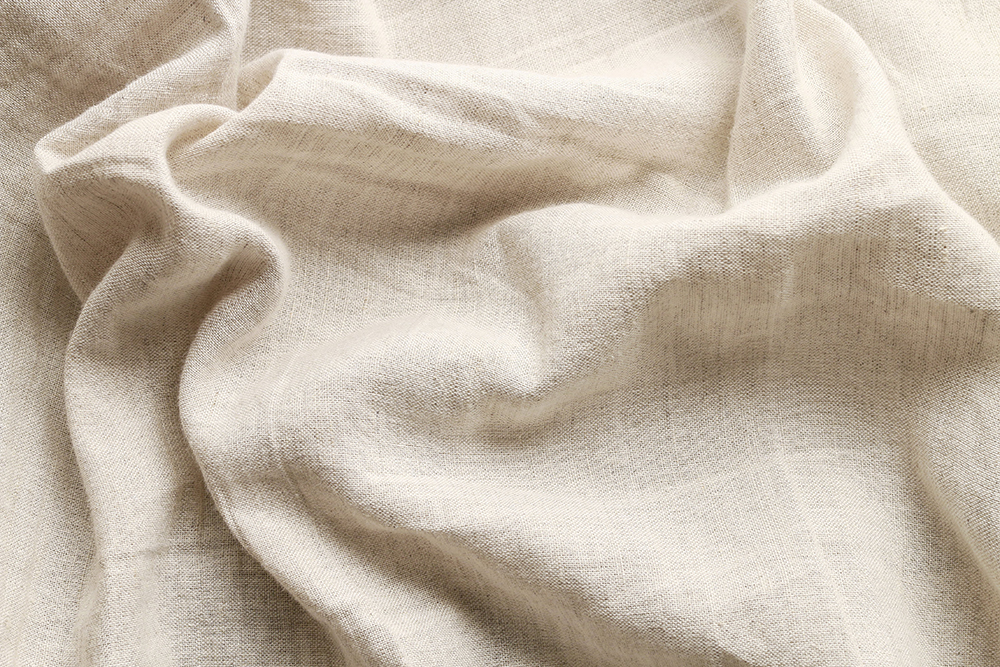 Polyester
Polyester is a man-made synthetic fabric that is easy to care for and wash. It has a soft and non-staining texture. It is resistant to moths and mildew. It has sufficient stretching features. It is produced from chemicals such as petroleum and coal. Polyester fabric is frequently used in bags, sportswear, curtains and home textile products.
Velvet
It is characterized by a dense pile of fibers, evenly cut, with a smooth pile. Velvet has a beautiful drape and a uniquely soft, luxurious and shiny appearance due to the properties of short pile fibers. Cotton, linen, wool, mohair and synthetic fibers can also be used to make velvet, making it less expensive and included in everyday clothing. Velvet is also a home decoration fabric used in evening dresses, upholstery fabric, curtains and pillows.
Canvas
Previously made from hemp, this type of fabric is today a plain woven fabric typically made from heavy cotton yarn and to a lesser extent linen yarn. It has a structure that is durable for a long time and requires fine workmanship. When cotton is mixed with synthetic fibers, it can become water resistant. Canvas fabric is used in sportswear, shoe production, bags and wall coverings.
Ribbon
It is a transversely highly flexible fabric with a corrugated appearance due to the height difference of the reverse straight loops forming the fabric surface. The fabric surface and properties differ according to the number of reverse thrusts. Rib knitted fabrics are heavily preferred for collars and armholes, hems, waists, tracksuit legs, underwear and top garments that are designed to fit the body.
Satin
It is actually the name of a weave, created from low-twist yarn using the twill weaving process. Thanks to satin weaving, a soft, shiny and flexible fabric is formed. One side of this fabric is very smooth and shiny, and the other side is matte. It is a soft and flowing fabric that is generally preferred for special clothing. Satin is widely used for underwear, nightgowns, dressing gowns, petticoats, fancy bra-panty sets, children's dresses, wedding dresses, shirts, and bedding sets.
Lycra
It is a synthetic elastic fiber. In addition to its extraordinary stretch and recovery properties, it completely mixes with natural, artificial and synthetic fibers, increasing the comfort level of the garment. It absorbs water well. It has a smooth surface and is easy to maintain. Lycra is frequently used in sports and fitness clothes, underwear, bed linen and some home textile products.
Jersey
It is a stretchy and knit fabric made from wool, synthetic fibers and cotton. In addition to very flexible single knit types, which when made with a light yarn are plain on one side and woven on the other; there may also be double knit jerseys with less stretch. Jersey fabric is used in women's draped dresses, children's clothes and coats.
Chiffon
It is a plain woven fabric with a slight sheen. Chiffon has small gathers that make the fabric a little stiff. These twists are created using s-twist and z-twist crepe yarns, which are twisted counterclockwise and clockwise, respectively. The threads are then woven in a plain weave, meaning that a single weft thread alternates over and under a single warp thread. Chiffon fabric is preferred in the manufacture of shawls, scarves, skirts, shirts, overalls and blouses.